1 February 2014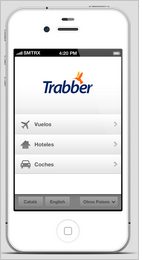 Finally we have a Trabber version specifically for mobile phones!
This new Trabber version is adapted to the smaller size of smartphone's screeens and their tactil interface. Trabber mobile lets you do the same searches for flights, hotels and rental cars as the desktop version.
To access the mobile version, you simply need type www.trabber.com on the browser address bar of your smartphone and you will be automatically redirect to the optimized version for your device. We have tested on most smartphones, so it should work in almost all platforms. If you find something that doesn't works well on your phone let us know.
The mobile version is available in all countries where we have a local version: USA, United Kingdom, Germany, Argentina, Brazil, Chile, Colombia, Spain, France, Italy, Mexico, Peru and Venezuela.
We'd love to hear your feedback on the new version of Trabber. We hope you enjoy it!