28 June 2007
Trabber has a new logo!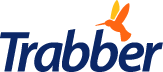 It has been created by Mike Rohde from MakaluMedia.
We have been working on it for several months, doing iterations from the black and white sketches to the final color logo. We are very pleased with the end result. Mike is really good at this. We first knew about him through a post that describes the process he follows for designing a logo, and then Eduardo confirmed Mike was the right person for the job.
So, what do you think about the new logo ?