8 August 2007
Trabber results page now supports filtering of the flights by several criteria: provider website, origin airport and destination airport.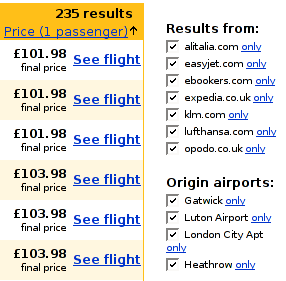 You will find the filters in the right column of the results page. Just clicking in a checkbox hides the results of the corresponding company (or airport). And the opposite occurs when clicking on the link labeled only: just the flights from this provider or airport will be displayed.
We hope that this new feature will help you to find the best flights even faster.