16 June 2014
We launch new features on the Trabber hotel search engine that will help users traveling with children and users who travel in groups and are interested in finding more than one room at a time.

From now on, you can specify the number of children staying in the room so that on the hotel results only hotels and rooms that have the required capacity are shown.
Some hotels charge additional amounts when children are accommodated. With this new feature, these costs will be included on the prices shown. This will help to prevent unpleasant surprises when booking in Trabber providers.
As the costs for children accommodations often depend on their ages, the new Trabber hotel search engine interface will require to specify children ages.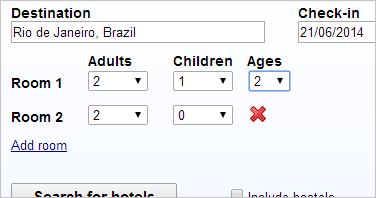 The second feature that we present is a better support for booking more than one room in one search. The new interface allows you to indicate the number of rooms and the number of people staying on each room. To add additional rooms to your search you should click on the link "Add room", located under the number of adults. We have limited the maximum number of rooms to 10.
Remember that these new functionalities are also available on the mobile version of Trabber.