30 September 2010
We develop this time a new feature for undecided travelers, a mashup of Google Maps and airfares deals stored in Trabber Offers, which surely will help Trabber users to decide where to travel.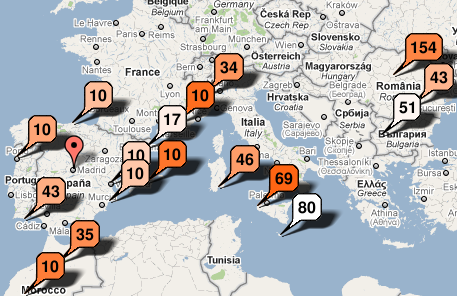 From now on when you do a search in Trabber Offers without any city destination or selecting a country as the final destination, you will find now the link "Find offers in a map" on top of all airfares results that will display all airfares on a map.

The map is interactive, which basically means that when you scroll or zoom to different places, new offers will appear around the selected areas dynamically.
Take into account that the map will show only deals that fit your search criteria. For instance, if you have selected deal under $200 euros and departing of friday, just these offers will be shown.
Here are two examples:
The color code is the same that we have used for Trabber Radar and intends to indicate the quality of the offers. So, the darker the color the higher the discount compared with the mean value.