3 November 2009
We finally add to all international Trabber sites the first version of Trabber Radar. Trabber Radar is a new recommendation system that suggests flights on close dates when a lower price is detected.
This new feature is based on the lastest version of Trabber engine, capable of scanning more flight information without a performance impact.

The system operation is quite simple: in case Trabber Radar detects a cheaper flight on a close date than the one selected by the user, it displays a warning message showing the most conviniente date to travel. Trabber Radar also permits users to obtain a matrix with prices for other dates.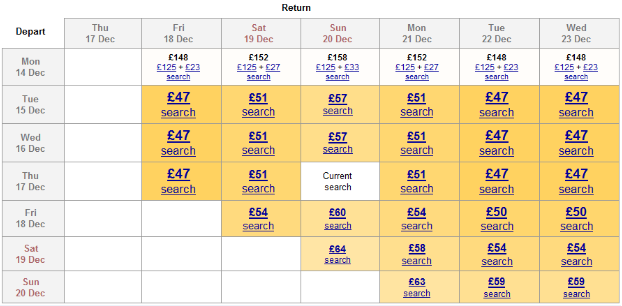 The version that we present today scans flights for a subset (16) of the total websites that Trabber uses on a regular search. However, it covers most of the major routes requested by travelers in Europe.
Trabber Radar surely will be of great value to identified the best options to travel.